Spindle Nut Kit 1" D-Flat & Tang Washers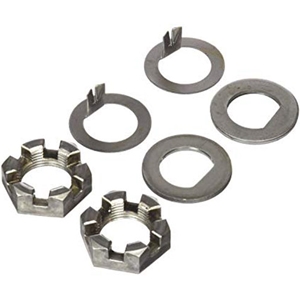 Spindle Nut Kit 1" D-Flat & Tang Washers
SKU: 014-119335
Lippert Trailer Axle Spindle Nut Replacement Repair Kit
Kit includes:


2 - 1"-14 6-slot castle nut
2 - 1" round D-shape flat washer
2 - 1" Tang Washer


The "tang" or 90 degree flaps on this washer presses down between the slots on a slotted axle nut. Used in place of a cotter pin/key to lock spindle nut to spindle. Typically placed between spindle washer and spindle nut.

Slotted Hex Nut, raw steel and oil coated with 6 slots cut into the top of the nut. These slots are for the insertion of the tangs.
This D-Shape round raw steel and oil coated washer fits 1" threaded trailer spindles. Typically for use on 3500lb.- 6000lb. axles.

Used on many diffrent brands of trailer applications for bearing/wheel hub to spindle assembly.

Part # 014-119335

Installing Spindle Nuts: While rotating the hub tighten the spindle nut to 18-22 inch pounds, which is slightly more than "finger tight". Don't overtighten. When the nut is positioned properly the wheel should turn easily and there should be no end play (Back and Forth Lateral Movement) of the hub with respect to the spindle.
We're currently collecting product reviews for this item. In the meantime, here are some reviews from our past customers sharing their overall shopping experience.
95%
of customers that buy
from this merchant give
them a 4 or 5-Star rating.
September 23, 2020 by
Mr. M.
(CA, United States)
September 2, 2020 by
Brian R.
(IL, United States)