Kodiak Disc Brake, 10" Integral Rotor / Hub Style, 5 X 4.5" Bolt Pattern, Stainless Caliper & Dacroment Finish Rotor / Hub, Sold As Each. Dexter#1/H-10Dsd-R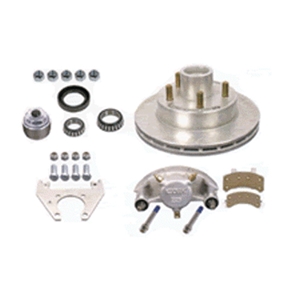 Kodiak Disc Brake, 10" Integral Rotor / Hub Style, 5 X 4.5" Bolt Pattern, Stainless Caliper & Dacroment Finish Rotor / Hub, Sold As Each. Dexter#1/H-10Dsd-R
SKU: 1-HRCM10DACSS
Kodiak Disc Brake Kit 10" 5-Lug 3500 lbs Dacroment Coated and Stainless Steel One Wheel
Integral 10" hub and rotor (one piece), 5 lug on 4.5" wheel bolt pattern. Caliper bracket mounts to 4 bolt brake flange on your axle and fits inside 13" and larger wheels.
Stainless Steel Caliper with 2-1/4" piston (stainless steel) is loaded with Ceramic Brake Pads that have Stainless Steel Clips for Extreme Performace, 50-100% longer life. Includes (2) Stainless Steel guide bolts with thread lock installed and (2) brass bleeder ports.
Rotor : Dacroment Coated
Caliper : Stainless Steel
Mounting Bracket : Dacroment Coated
Each Kit Includes:
Inner bearing-#L68149 (1-3/8")
Outer bearing-#L44649 (1-1/16")
1/2" wheel nuts
1-Grease seal (SL-173), Mounting bracket bolts and nuts, Zinc Steel Grease cap.
One wheel assembly per box Universal (left or right)

Kodiak Part # 1-HRCM-10-DAC-SS-KIT
New Dexter#1/H-10DSD-R
We're currently collecting product reviews for this item. In the meantime, here are some reviews from our past customers sharing their overall shopping experience.
95%
of customers that buy
from this merchant give
them a 4 or 5-Star rating.
September 23, 2020 by
Mr. M.
(CA, United States)
September 2, 2020 by
Brian R.
(IL, United States)