Trailer Jack 8000# Square Drop Leg Bulldog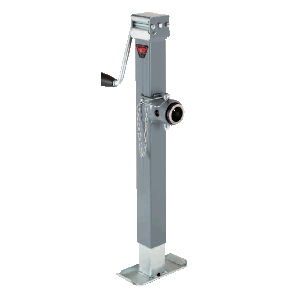 Trailer Jack 8000# Square Drop Leg Bulldog
SKU: 190758
Bulldog Square Tube Drop Leg Trailer Jack
(note-pic does not show drop leg)
Bulldog's 8,000lb. support capacity square jack serves the agricultural, industrial, construction, horse/livestock trailer, and utility/cargo trailer markets. We have packed "Big Jack Power" into this compact design! The compact design of these jacks makes them ideal for tight-fitting applications where 3" and 4" square tube jacks are too big! This is a perfect transition from
BULLDOG's
round jack product line.
Use the painted outer tube as the final finish or primer.

Zinc-plated inner tube and drop leg.
4.7" outer/inner tube overlap-results in optimal side load performance.
5/8" screw stem-provides insurance against screwstem twisting off.
Patented screw nut stop-prevents screw and /or nut damage when jack is fully extended.
Topwind models-brushing in top cap, eagle claw grip.
Sidewind models-1/4"cross pin connects gear train to screw stem-guards against shearing jack pin.

Sidewind models-1:1.33 gear ratio.


We're currently collecting product reviews for this item. In the meantime, here are some reviews from our past customers sharing their overall shopping experience.
95%
of customers that buy
from this merchant give
them a 4 or 5-Star rating.
September 23, 2020 by
Mr. M.
(CA, United States)
September 2, 2020 by
Brian R.
(IL, United States)