Trailer Bunk Wrap Kit 16'X2X6" Grey - PAIR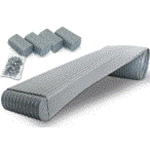 Trailer Bunk Wrap Kit 16'X2X6" Grey - PAIR
SKU: 23052-PAIR
CALIBER BUNK WRAP 16' Roll w/4 Endcaps & Stainless Hardware for 2" x 6" Bunks. Color Light Grey.
Renew Your Old Shaggy Carpeted Bunks with a Permanent Solution! Reduce force required to load or unload your boat by over 300%. Less strain on arms, ropes and pullys. Wash out channels, flush sand, salt and other debris away from hull.
Bunk Wrap Kit includes enough wrap to complete a 16' bunk. or (2) 8' or shorter bunks. Cut to your desired lengths.
Reduce the spread of invasive species.
Eliminate electrolysis breakdown on aluminum.
Wraps directly over carpet or on bare wood!
Slot fastening for wrinkle-free temp adjustment.
Great for trailers and boat lifts!
Made with proprietary High-Impact Glide Guard technology plastic.
Material will not wear, crack, chip or fade.
This is a permanent solution, GUARANTEED FOR LIFE!
Installation Note:
With Bunk Wraps there is no need to remove your old worn out carpet. Just mount the Bunk Wraps right over the top! Make sure to put a layer of wax on you hull during installation.
*BUNK WRAP IS DESIGNED TO REDUCE RESISTANCE LOADING AND UNLOADING FOR ALUMINUM STYLE BOATS, PONTOONS, AND ALL WATERCRAFT
BOATLIFTS. *BUNK WRAP IS NOT DESIGNED FOR HEAVY WEIGHT GEL COAT TRAILER APPLICATIONS. CALIBER IS NOT RESPONSIBLE FOR HULL DAMAGE DUE TO IMPROPER USE, MAINTENANCE, APPLICATIONS, OR LACK OF KEEPING BUNKS CLEAN.
We're currently collecting product reviews for this item. In the meantime, here are some reviews from our past customers sharing their overall shopping experience.
95%
of customers that buy
from this merchant give
them a 4 or 5-Star rating.
September 23, 2020 by
Mr. M.
(CA, United States)
September 2, 2020 by
Brian R.
(IL, United States)