Trailer Axle, 2,000# Capacity, 58" Hub Face, 63.14" Oal. 1-3/4" Painted Round Tube (Carry-On Replacement)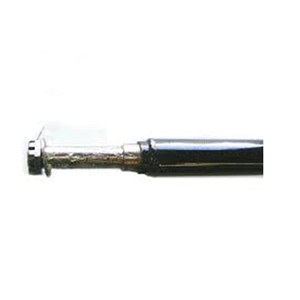 Trailer Axle, 2,000# Capacity, 58" Hub Face, 63.14" Oal. 1-3/4" Painted Round Tube (Carry-On Replacement)
SKU: 50299
Round Tube Straight Trailer Axle (2000 lbs)
Track length = 58" Overall length = 63.14" Spring Centers = 48"
Replacement Carry-On Trailer Axle #5848 and Tractor Supply # 0175407 For 4x8 Trailers.
1-3/4" Diameter x 3/16" wall round tube trailer axle, black e-coated finish, cambered design. Spindle - 1-1/16" x 1-1/16" straight (Standard w/Super-Lube zerc fitting). Takes Bearing: L44649 inner & outer. 
All axles include spindle nuts, cotter pins, and welded on spring seats
. Hubs not included, See Add-ons/Accessories.
CAMBER: Axles are cambered or 'road set' so there is a bow until weight is put on the axle. All cambered axles should be mounted with the center bow up.
Tie Down Part # 50299:
Trailer Running Gear, Axles & Hardware, Tow Zone Axles by Tie Down
All Tow Zone Axles are proudly made in the USA.
This Axle's Spindle is equipped with TDE's SuperLube Lubrication System. The bearings can be periodically lubricated without removing the hubs from the axle. The advantage to this system is that new grease saturates the inner bearing and outer bearing while pushing out the old grease, unlike systems that just push new grease on top of old grease.
1. Remove the rubber plug from the grease (hub) cap.
2. Use a standard grease gun onto the grease fitting located at the end of the spindle, making sure the grease gun nozzle is engaged on the fitting tightly.
3. Pump grease into the fitting, while slowly turning the wheel. Grease will flow out of the hub around the spindle.
4. When the grease appears to be the new clean grease, remove the grease gun and wipe off any excess grease.
5. Replace the rubber plug in the cap.
All Tow Zone Axles are proudly made in the USA!
We're currently collecting product reviews for this item. In the meantime, here are some reviews from our past customers sharing their overall shopping experience.
95%
of customers that buy
from this merchant give
them a 4 or 5-Star rating.
September 23, 2020 by
Mr. M.
(CA, United States)
September 2, 2020 by
Brian R.
(IL, United States)