Torsion Axle, 74"Hf, 62" Outside Bracket, 58" Frame Center, 2500# , 30* Down Angle, Fits Load Rite Snow Trailers (46277F)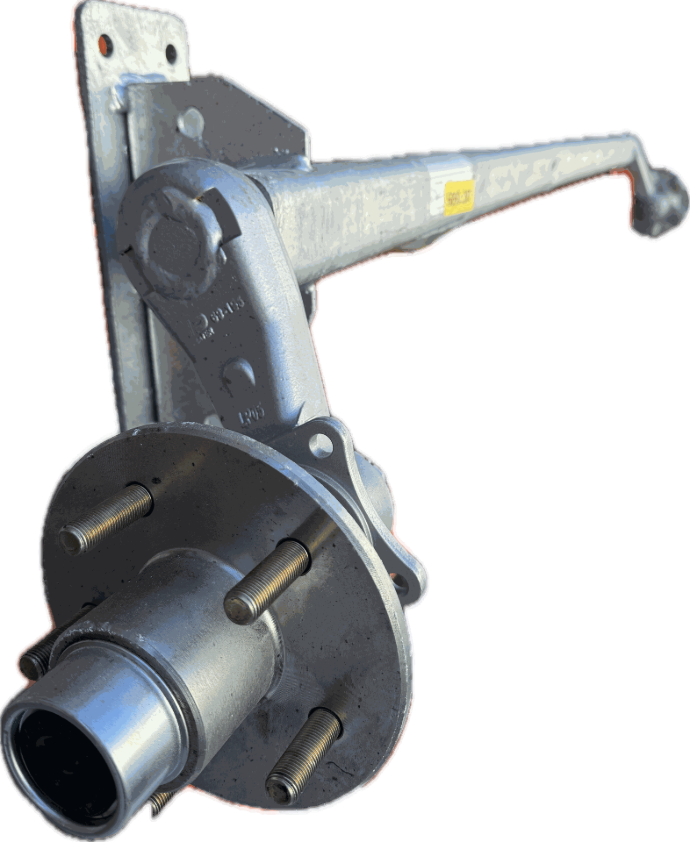 Torsion Axle, 74"Hf, 62" Outside Bracket, 58" Frame Center, 2500# , 30* Down Angle, Fits Load Rite Snow Trailers (46277F)
SKU: 6090.28T
Load Rite Snowmobile Trailer 2500# Torsion Axle Fits all Load Rite Ramp & Tandem Models
Tie Down Eliminator Galvinized Axle with Removable Spindles, Torsion Arms Set at a 30 degree Starting Angle.

Must use flange #GOR-SP602 to work with 10" Tires. (See Add On's)

Includes Two 5 Bolt - 4.5" Bolt Circle Black Painted Pre-Greased Hubs (2 5/8" Center Stud to Center Stud).
Equiped with a Low Profile Top Mounting Bracket.

Features:

5 Lug Pre - Greased Painted Hubs Installed
Outside Bracket 62"
Frame Center: 58"
Load Rating: 2500 lbs.
Axle Tube 2-1/2" Sq
Track Length: 74"
Spindle Size: 1-3/8" x 1-1/16"
Inner Bearing #L68149 and Outer Bearing #L44649
Load Rite Trailer OEM Axle
Used on Load Rite Snowmobile Trailers
Must use flange #GOR-SP602 to work with 10" Tires.
Load Rite Part Number 6090.28T
The Eliminator Torsion Axle is an industry first with its removable spindle. Gone are the days of sitting by the side of the road when the spindle/axle is damaged due to extreme bearing failure or due to an accident.
Suspension travel and shock absorption are handled by four cords inside the steel tube housing. As the wheel moves up and down the rubber cords compress, offering a progressive rate of resistance.
Independent suspension: each wheel acts independently for a smoother ride. The axle is bolted to the trailer frame which acts as an additional cross member that stiffens the frame, reducing flex. The rubber torsion cord design provides a progressive rate of shock absorption. Small bumps require less torsion resistance as compared to larger bumps which require a stiffer rate of shock absorption. This makes for a smoother ride over all types of roads. Torsion axles allow independent movement of each wheel, reducing shock transfer and dangerous trailer sway.


We're currently collecting product reviews for this item. In the meantime, here are some reviews from our past customers sharing their overall shopping experience.
95%
of customers that buy
from this merchant give
them a 4 or 5-Star rating.
September 23, 2020 by
Mr. M.
(CA, United States)
September 2, 2020 by
Brian R.
(IL, United States)