Dexter Marine Products Model 750, 7,500# Capacity Disc Brake Actuator, For 2" Ball (Replaces Tie Down Model 750)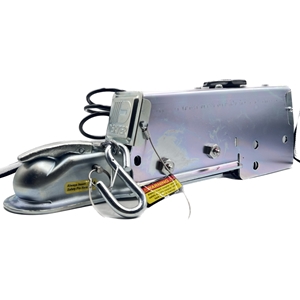 Dexter Marine Products Model 750, 7,500# Capacity Disc Brake Actuator, For 2" Ball (Replaces Tie Down Model 750)
SKU: 70521
TIE DOWN Model 750 Disc Brake ActuatorIncludes:
pre-installed back-up solenoid and an extended housing for solenoid and line protection.
The all aluminum master cylinder incorporates the shock absorber into the master cylinder assembly . This exclusive feature was designed into the master cylinder in order to provide the tow vehicle with a warning signal when the brake fluid is at a low level.The oversized master cylinder provides the higher pressure required to run disc brakes and the added fluid for tandem trailers. This design positively provides quicker stops.
7,500 lbs GVWR
800 lbs Tongue Load
1/2" Dia Mounting Holes are 3" on Center Front to Back
Frame size 3"
2" Ball
Zinc Plated for Excellent Corrosion Resistance
Model 750 Actuators Manufactured Starting August 2013 Have Been Simplified. Prior Versions were Model 70
We offer multiple configurations in both disc and drum brake models.
Important Features In The New 2013 Model LinePre-loaded Dampener Unit
No longer will you be required to "pump" the dampener first before bleeding the brakes. All TDE actuators now have a pre-loaded dampener
Quick Latch Coupler
The coupler in the closed (tow) latch position will auto-latch onto the hitch ball when set on top of the hitch ball, with minimal weight. Incorrect latching and/or forgetting to properly close the latch mechanism is the #1 reason for trailer separation from the tow vehicle
Universal Latch Position
All new 2012 coupler latches are latched in the "down" position
Cast Steel Latch Handle
Can't break, looks great!
Solenoid Plumbing Built Into The Master Cylinder This UNIQUE feature eliminates the following: • Removal of entire solenoid for servicing • Detachment of brake hose • Detachment of the actuator cover • Detachment of actuator unit from trailer tongue Larger Fill Cap On Master Cylinder • Common filler cap easier to maintain spare parts. Easy to remove, easier to add brake fluid. Standard Length Actuator Cover • New housing covers the solenoid (when used) similar to the previous "3/4 extended" model. Additional Features: • Cast steel ball clamp • Safety pin that locks the ball clamp, not the latch handle • Aluminum master cylinder • Coiled E-stop cable, PVC coated • Grease fittings on roller pins
Venture# 10521   Load Rite# 6080.61
We're currently collecting product reviews for this item. In the meantime, here are some reviews from our past customers sharing their overall shopping experience.
95%
of customers that buy
from this merchant give
them a 4 or 5-Star rating.
September 23, 2020 by
Mr. M.
(CA, United States)
September 2, 2020 by
Brian R.
(IL, United States)