Brake Line Kit, Flex-Hose Tandem Axle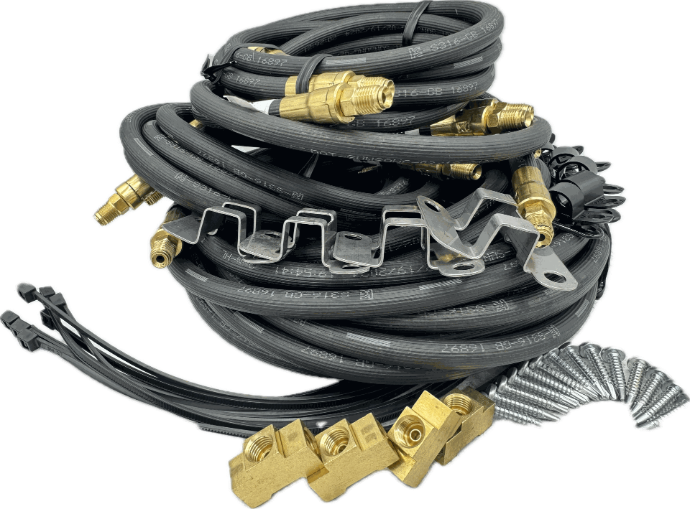 Brake Line Kit, Flex-Hose Tandem Axle
SKU: 80328
Tie Down Trailer Flexible Hydraulic Brake Line Kit
Everything you need to plumb brakes on a tandem-axle trailer. Designed to be used on trailers using either surge brake actuators or power brake actuators (vacuum/hydraulic, air/hydraulic, electric/hydraulic) brakes.
Brake lines provided are DOT/Flexible hoses approved for use on all trailer brakes including drum brakes and disc brakes with floating calipers. Lines have a pressure of 3000psi. working pressure.
All fittings are brass for the ultimate in corrosion resistance. Main Line is 20' and is measured from the actuator to the axle 'Tee'.
Kit Includes:
4 - 24" DOT flex hoses
2 - 76" DOT flex hose
1 - 38" DOT flex hose
1 - 240" DOT flex hose (20')
14 - Self tapping screws
6 - Cable clamps
9 - Cable Ties
1 - Union "T" Plug
4 - "T" Clamp

Tie Down Engineering Part # 80328 - Axle Brake Line Kits - Tie Down Flexible Brake Line Kit - Flexible Hose Brake Line
Venture Part#20654
We're currently collecting product reviews for this item. In the meantime, here are some reviews from our past customers sharing their overall shopping experience.
95%
of customers that buy
from this merchant give
them a 4 or 5-Star rating.
September 23, 2020 by
Mr. M.
(CA, United States)
September 2, 2020 by
Brian R.
(IL, United States)