Target Bunk Kit, Fits Load Rite Model 5S-Ac26 & Ac28 (Includes Crossmember, Bunks And Brackets)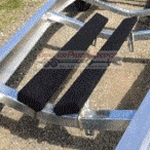 Target Bunk Kit, Fits Load Rite Model 5S-Ac26 & Ac28 (Includes Crossmember, Bunks And Brackets)
SKU: 8107.01
Target Bunk Kit For Load Rite Models 5S-AC26 & 5S-AC28 (5-Starr Aluminum Frame With AC Bunks)
Target bunks provide a target for boat when loading boat onto trailer. Provides some additional hull support; however, support is not the primary purpose of the target bunks.
Kit includes:
(1) 3x3x44.38" galvanized crossmember with 12.50° flanges [4304.526]
(2) 10" bunk bolster brackets with swivels [1027.026 & 1017.006]
(2) 12" bunk bolster brackets with swivels [1027.036 & 1017.006]
(2) 2x6x60" carpeted bunk boards [1060.14]
Hardware for installation including lag bolts, posi-lock plates, u-bolts, hex bolts, nylock nuts, washers, washer plates, and shackle plates.
Please note: this kit is designed for specific Load Rite 5-Starr trailer models but may work on other applications.
We're currently collecting product reviews for this item. In the meantime, here are some reviews from our past customers sharing their overall shopping experience.
95%
of customers that buy
from this merchant give
them a 4 or 5-Star rating.
September 23, 2020 by
Mr. M.
(CA, United States)
September 2, 2020 by
Brian R.
(IL, United States)