Trailer Hub, 1-3/8" X 1-1/16" Bearings, Vortex Grease System, 5 X 4.5" Bolt Pattern, Pre-Greased. Tie Down# (81022)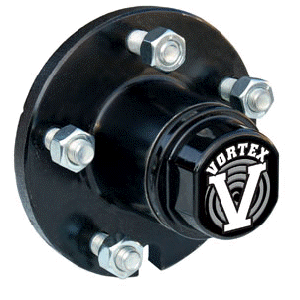 Trailer Hub, 1-3/8" X 1-1/16" Bearings, Vortex Grease System, 5 X 4.5" Bolt Pattern, Pre-Greased. Tie Down# (81022)
SKU: K08-528-98
Tie Down Vortex Lubrication System
Vortex E-Coated 5 stud on 4.5" bolt circle with #L68149 inner and L44649 outer bearing. Hub length equals 4-1/8". Capacity of 1,750 lbs per hub. Bearings and hub cavity 100% pregreased. Grease seal and bearings are preassembled. Kit includes: Bearings, Seal, Threaded Vortex dust cap, and lug nuts.
Hubs Filled With Lucas X-TRA Heavy Duty Marine Blue Grease
Meets or exceeds OEM "Lube For Life" requirementsand last up to four times longer than conventional grease
100,000 mile or 6 year limited warranty*
"No Touch" lubrication system
No maintenance/service for lower operating costs
No need for periodic re-greasing or inspection
Reusable dust cap is threaded for easy removal should the need occur
* Six year full replacement on hub and bearings
***UFP spindles/axles require 81323 Grease Seal***

Tie Down Part # 81017


Tie Down Engineering Vortex Hub

Your hub/spindle is equipped with Tie Down Engineering's Vortex Lubrication System. While the Vortex Lubrication System is designed not to be touched, there could be a time where it will be necessary to change or add new grease. The bearings can be lubricated without removing the hubs from the axle. The advantage to this system is that new grease saturates the inner bearing and outer bearing while pushing out the existing grease, unlike systems that just push new grease on top of old grease. This insures that the hub cavity is completely filled with new grease, if ever required.

We're currently collecting product reviews for this item. In the meantime, here are some reviews from our past customers sharing their overall shopping experience.
95%
of customers that buy
from this merchant give
them a 4 or 5-Star rating.
September 23, 2020 by
Mr. M.
(CA, United States)
September 2, 2020 by
Brian R.
(IL, United States)