Ufp K71-090-05 Disc Brake Kit 12" Zinc Rotor And Aluminum Caliper (One 6 Lug Assembly). Dexter/Ufp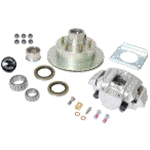 Ufp K71-090-05 Disc Brake Kit 12" Zinc Rotor And Aluminum Caliper (One 6 Lug Assembly). Dexter/Ufp
SKU: K71-090-05
UFP by DEXTER Disc Brake Kit with Aluminum Caliper & Zinc Plated Steel Rotor
(1) 6 on 5.5" Zinc Plated Steel Rotor with a Zinc Plated Hub Pressed on (6000lb. capacity), 25580 / 14125 Bearings on a 1 3/4" x 1 1/4" Spindle.
(1) Aluminum Caliper Loaded with Pads (mounting bolts included), The Caliper mounts directly to 5-bolt brake flange on UFP axles.
(1) UFP Stainless Steel Bearing Buddy with Protective Bra Cover
(1) Optional Non UFP Axle Zinc Plated Mounting Adapter Bracket
Bearings, Seal and Cotter Pin (2.25" I.D. Double Lip Grease Seal) Included.
Technical Specs:Bearing Size:
25580 Inner and 14125 Outer Bearing
Seal:
I.D. 2.25"
Spindle:
1-3/4" x 1-1/4"
Bolt Pattern:
6 on 5.5" (15" and larger wheels)
Axle Rating:
Up to 6000lbs.
Bearing Buddy Size
2.44"
UFP Disc Brake Installation and Service
We're currently collecting product reviews for this item. In the meantime, here are some reviews from our past customers sharing their overall shopping experience.
95%
of customers that buy
from this merchant give
them a 4 or 5-Star rating.
September 23, 2020 by
Mr. M.
(CA, United States)
September 2, 2020 by
Brian R.
(IL, United States)