Kodiak Red Eye Bearing Protectors, 2K & 3.7K Axle Hubs With 1.98" Diameter. Sold As A Pair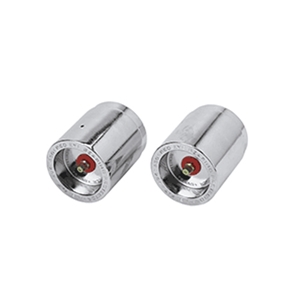 Kodiak Red Eye Bearing Protectors, 2K & 3.7K Axle Hubs With 1.98" Diameter. Sold As A Pair
SKU: REBP1980AC
Kodiak Red Eye Bearing Protector Chrome Plated (sold as pair)
Fits Hub Diameter-1.98", Outer Bearing # L44643 or L44649 or L44640. Outer Bearing Cup #L44610.
The RED EYE® is the only bearing protector guaranteed not to leak grease. With its patented one-piece housing and two O-ring seals, RED EYE® is the only bearing protector that can guarantee you it won't leak grease. But most importantly it assures you it is keeping dirt, water and other contaminants out of the wheel bearing area. This, combined with a spring-loaded piston, maintains a constant positive pressure on the hub, even when submerged in cold lake water.
TO SUM IT UP:
Guaranteed not to leak grease
Easy to tell when to add grease and when to stop adding grease
Indicates inner seal failure
Easy to install
Sizes for most standard hubs
No Bearing Bra Required
Limited LIFETIME warranty
Kodiak Part # REB1980ACThe RED EYE® Bearing Protector
Tells you when it is full and when to add grease. When you add grease into the RED EYE®, stop when you see the "full" mark (and orange O-ring). This prevents the common mistake of over filling and causing inner-seal failure. When the red washer on the indicator is flat against the housing, it is time to add grease. If the RED EYE® indicator repeatedly tells you to add grease, this alerts you of a possible inner-seal failure that you may not realize that you had without the RED EYE®.
WHAT IS A BEARING PROTECTOR SUPPOSED TO DO?
To protect wheel bearings from contamination by water, salt and dirt by providing and maintaining a positive hub seal. This is the only way to prevent premature bearing failure. If your current bearing protection system leaks grease, it is not maintaining a positive pressure and not providing an effective seal against outside contaminants.
We're currently collecting product reviews for this item. In the meantime, here are some reviews from our past customers sharing their overall shopping experience.
95%
of customers that buy
from this merchant give
them a 4 or 5-Star rating.
September 23, 2020 by
Mr. M.
(CA, United States)
September 2, 2020 by
Brian R.
(IL, United States)