Kodiak Disc Brake 13" Integral Rotor 9/16" Stud Dac Coat R/H-133-8-9-D-S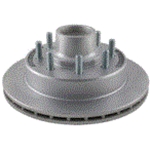 Kodiak Disc Brake 13" Integral Rotor 9/16" Stud Dac Coat R/H-133-8-9-D-S
SKU: RH-133-8-9-D
Kodiak 13" Integral Rotor with Hub Dacromet Coated
8 lug on 6.5" wheel bolt pattern; 9/16" wheel bolts; #25520 inner cup and #02420 outter cups are pre-pressed in. (Inner bearing # 25580, Outer bearing #02475 and lug nuts sold separately see Add-ons/Accessories in items profile). All Rotor/Hub 133-8 are furnished with standard polycarbonate screw-in oil cap. Hub and rotor are machined together. This minimizes rotor runout.
Hub and rotor are balanced as one unit, which offers a smoother ride. Simpler and easier to install when retro-fitting and/or upgrading from drum brakes.

Kodiak Part # Rotor-Hub-133-8-9-D

Dacroment Coating offers the best value of protection for salt water applications (i.e., during a standard salt spray test, rust will begin forming between 400 and 600 hours).

Kodiak has Automotive Quality Rotor Castings. Rotors are 100% tested and balanced to meet very strict specifications. Kodiaks Rotors are vented to improve heat dissipation. All gray iron rotors are 35,000 PSI tensile strenght castings for longer rotor life. Improved structural integrity and superior performance. Furthermore, machined disc brakes minimize the chance of contamination between the hub and rotor, resulting in excellent performance and long life.
Please note: Item may ship directly from manufacturer, please call for immediate availability


We're currently collecting product reviews for this item. In the meantime, here are some reviews from our past customers sharing their overall shopping experience.
95%
of customers that buy
from this merchant give
them a 4 or 5-Star rating.
September 23, 2020 by
Mr. M.
(CA, United States)
September 2, 2020 by
Brian R.
(IL, United States)